End of September and beginning of October is busy time in Bosnia. All the fruit and vegetables have to be picked and stored for winter. My birth town (and surrounding aerie) is famous for growing prunes. They're mostly used for making jams, rakia (sljivovica) and desserts.
This is one of my favourite prune / plum desserts. Quick and easy!

Ingredients:
Prunes (or plums)
Flour
Oil, neutral tasting
Sugar (if plums not very ripe)
Method:
Preheat oven to 180*C. Grease baking dish(es) and dust with flour.
Open each plum and destone it. Shake plums with some flour (in a bag or bowl). Place a layer of plums onto dishes (if plums not very ripe sprinkle with some sugar), drizzle with oil and repeat with another layer and drizzle of oil. Bake for 20 minutes, or until plums release juice and become golden on top. Let it cool and serve with cream / custard / ice cream.
In Japan Prune trees are considered as God's trees!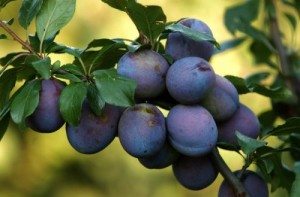 U Japanu sljive se smatraju bozanskim drvetom!
Šljivopita - nekadašnji desert siromašnih
Kraj septembra i pocetak oktobra su mjeseci kada se voce i povrce u nasim krajevima ubire i priprema za zimu. Moj rodni grad i okolica su poznati po uzgoju sljiva. Uglavnom se koriste za pripremu dzemova, rakije i razlicitih deserta. Jedan od meni najdrazih je svakako ova 'pita' koja se uglavnom pravila u siromasnijim porodicama i sa veoma malo sastojaka. Brza i ukusna!
Potrebno:
Sljive
Brasno
Ulje, neutralnog mirisa
Secer (ako sljive nisu dovoljno zrele)
Nacin:
Ukljucite rernu na 180*C. Nauljite posudu (ili vise manjih) za pecenje i pobrasnite.
Otvorite svaku sljivu i odstranite kospicu. Protresite sljive sa brasnom (u posudi ili kesi). Stavite red sljiva na pripremljenu posudu, pospite sa malo secera, pospricajte uljem. Ponovite postupak jos jednom, pa stavite peci na oko 20 minuta, ili dok sljive ne puste sok i postanu zlatno-zute na povrsini. Prohladite i servirajte sa tucenim vrhnjem, rjedjim pudingom ili sladoledom.